Bay of Islands Activities, Adventures, Tours & Sightseeing
When staying at Bay Cabinz Motel you are only 300m from the Paihia wharf which is the main departure point for all tours, cruises and activities in the Bay of Islands.
The Bay of Islands is a truly beautiful sub-tropical playground with a diverse, rich variety of experiences there for the picking. Whether it be a nature based or action packed experience you are looking for, we are happy to share our local knowledge and offer a FREE booking and ticketing service.
Book for our Special Events!
Waitangi Mountain Bike Park - NOW OPEN - www.wmbp.nz
Visit the new "Waitangi Museum"
2017
Paihia Farmers Market - Paihia Village Green every Thursday 2 - 5.30pm
March 16th - 19th March - BDO Cycle Tour of Northland
March 18th 2017 - NZ Ocean Swim - Russell to Paihia
April 2nd - Bay of Islands Sanitarium Weet-Bix Kids TRYathlon
April 21st - World Masters Games - Auckland & Cambridge
www.worldmastersgames2017.co.nz
May 12th - 14th inclusive - Bay of Islands Country Rock Music Festival
June 17th - "Far North Rally" - Rally of the North
June/July 2017 - All Blacks NZ Lions Series Tour
August 11th - 13th inclusive - Bay of Islands Jazz & Blues Festival
Hiking, Walking & Cycling
Click on links below for further information
www.wams.org.nz
www.nzcycletrail.com/twin-coast-cycle-trail
www.wmbp.nz
Our Personal Favourite's

Pete enjoys:
Golf at Waitangi - Friday haggle - Sunday men's day
Recreational fishing - mainly Snapper & Kingfish
Pleasure Sailing around the 144 islands the Bay has to offer
Playing snooker at the adjacent Paihia Ex-Servicemens Club
Stroll across the road & dine at the Clubs popular Legends Restaurant
Digging Pipi (shellfish) at the local Te Haumi Beach
Mussel (shellfish) gathering off the Black Rocks out in the Bay
Bird watching or Birding & feeding (the feathered variety)
Coffee & a stroll along the Marina finger berths at Opua - dreaming
Family BBQ at sunset
Belinda enjoys:
Regular walks - the promenade footpath to the Waitangi lookout is a favourite - 8km return
A treat at La Spa Naturale (Award winning Day Spa) steam room, facials & massages
Kayaking in the mangrove forest up the Waitangi River
Soaking at Ngawha Hot Springs - natural mineral springs renowned for their therapeutic & healing properties
Lunching at Whare Waka Cafe - next to the Waitangi Treaty Grounds with views to Russell
Beachcombing and shell collecting
Picnic at the beach with a hamper full of local delights from the Farmers Market (Thursdays)
My nature based "Hot Tip" is a visit to the Kawiti Glow Worm & Limestone Caves which ends in a short bush walk through a natural corridor of native ferns, shrubs & trees

Zoe (our daughter) enjoys:
Tobogganing down the giant sand dunes around northland
Adventure World's harness free trapeze & wall climbing
Parasailing - soaring high above the Bay of Islands with the Flying Kiwi
Exploring on Urupukapuka Islands with Explore NZ water taxi
Movie & meal deals with friends at the historic Cathay Theatre in Kerikeri
Sailing on Gungha or Carino - enjoying island stopovers & the snorkelling trail
Day hike to Opua on the coastal walking track with friends
Still on her "wish list" - swimming with the dolphins & the highest tandem sky dive in the Bay
Stargazing on Dark Sky nights
Cycling for leisure on our new Pou Herenga Tai Twin Coast Cycle Trail
Experiencing the new "Waitangi Mountain Bike Park"
Zoe's most favourite pastime of all is "hanging" at the beach with friends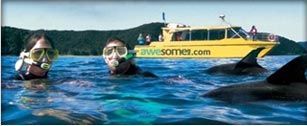 Things to do...
Famous "Hole in the Rock" Bay of Islands cruises
4WD Bus tours to Cape Reinga & 90 Mile Beach (daily pick up from motel)
Sailing - Catamaran & mono hull options
Kayaking & Swimming
Waka (Maori canoe) trips
Fishing - light or heavy tackle
Parasailing & Sky Diving
Scenic & Charter flights
Horse trekking & Hiking
Diving - Rainbow Warrior & HMNZS Canterbury
Historic Waitangi Treaty Grounds (Culture & Heritage)
Ferry boats to Romantic Russell (NZ first Capital)
Waitangi & other fabulous scenic Golf Courses
Bush, forest & coastal walking tracks
Art & craft trails
Wineries & fresh food experiences
Stargazing, Bird Watching
Cycle trails & cycling for leisure
Useful Links